Monthly Mystical Encounter
in Madrid with Alverto
Participate from 3 to 11 days of Retreat, Convention and Training!
THE PATH OF TRUST, THROUGH THE LOVE WHO INSPIRES YOU
The Mystical Encounters are meetings that bring together people from all over the world in what deepens on issues of life and the human being with a focus that generates a spiritual connection.
The Mystical Encounters are encounters with a teacher of the modern era, in a community that is also aware of the modern era … an encounter of similar beings and people, united by the same passion: the encounter with the truth within a spiritual field that contains, support and inspire. But it is a truth that is not said by a teacher or owned by him, but is innate because it lives within each one.
In this meeting of seekers we are clearing the way of the lies that until now had invaded us so that what our soul longs for will reach us.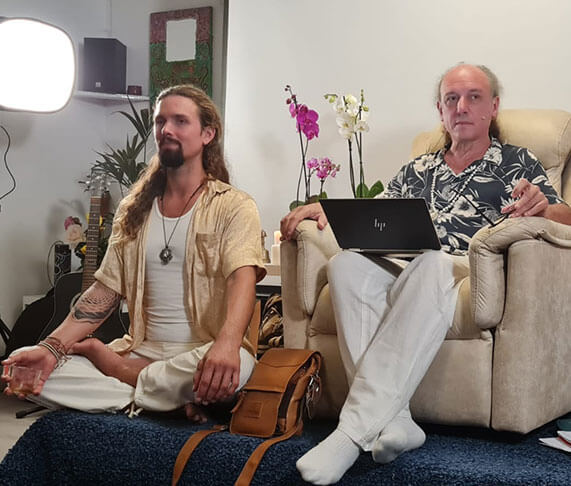 "I am not a name; neither am I a man, father, entrepreneur, writer, guru or mentor. Beware of getting distracted by my characters because I only use them to convey the essential. By transcending what I say and show you will encounter the mystery that dwells within you. I use language, my self and everything I can to bring my discoveries closer to you."
Alverto.
In this special meeting multiple activities are carried out:
Conscious School Classes with Alverto.
Training workshops with the Mentors of the Conscious School formed by Alverto.
Sessions of psychotherapeutic integration and conscious reintegration.
Laboratories and group dynamics within the Beyond Academy Program, the Training School.
Audiovisual presentation of TRIANGULAR MUSIC.
Meetings with the entire team of the international organization Beyond Inner (Convention).
Official meeting with Beinclub partners who propose new ideas and proposals.
Taking natural substances (shamanic medicines), Temazcales, Dance Workshops.
Walks to the Jarama River.
Horse trips.
Activities and purpose of the three blocks of 3 days each
You can freely participate in the days you choose to be, whatever the combination.
Integrative Inner Mastery Retreat
preparation and fine-tuning of the body and emotions to receive new and powerful insights.
Mystical Encounters and Conscious School with ALVERTO:
deepening on issues of life and the human being with an approach that generates a spiritual connection
EFI:
Integral formative event.
training for students and integration into the organization of people who want to start collaborating or who are already working in the movement.
A generational meeting
that transmits reconciliation
Alverto and Elian Varela every month at EMMMA.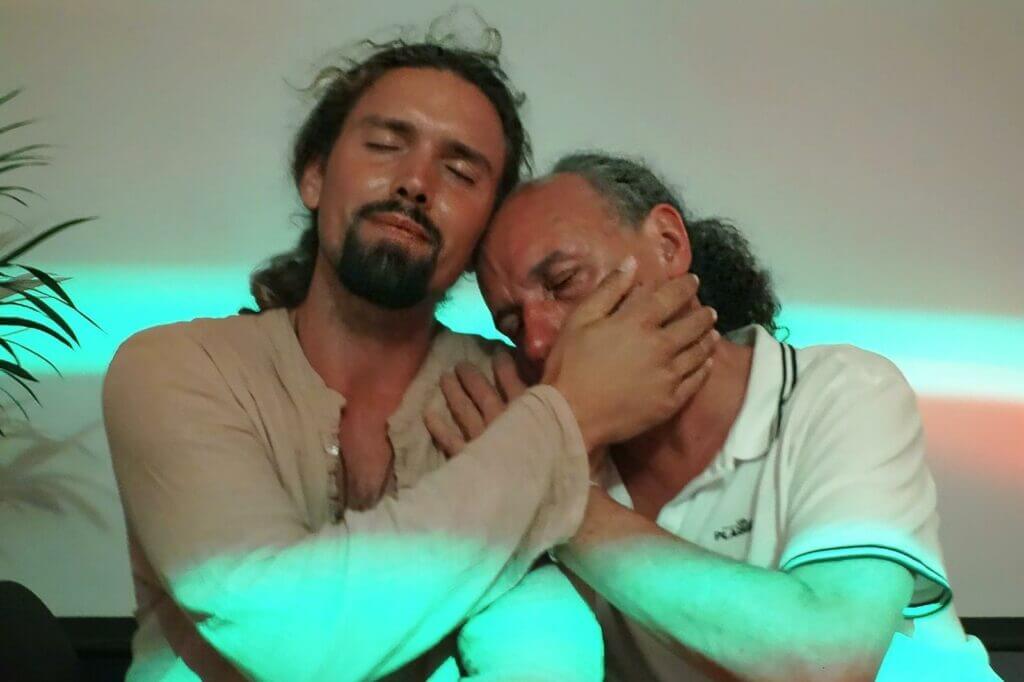 FATHER AND CHILD CONNECTED IN THE SAME FEELING: raising our gaze towards the eternal, the luminous and that which is beyond everything that happens to us in life, is an inspiring attitude to heal wounds of the past, to unite us in the love we feel and to integrate us to the same path. Family relationships have the possibility of becoming sincere bonds, where mutual respect directs every expression.
We invite you to be in the presence of these two men who inspire us to heal our bonds.
It is a hopeful opportunity to contemplate the possibility that we can open ourselves to have an experience of love and collaboration between children and parents without conflict, but rather a complementation and integration of individuals who decided to meet to give the best of themselves.
✔️ 3 night ancestral tools sessions
✔️ 3 daytime ancestral tools sessions
✔️ All workshops with Alverto and team of mentors
✔️ 3 screenings of Triangular Music documentaries (1 each night)
✔️ Lodging and meals during 3 days and 3 nights.
✔️ Accompaniment by a team of facilitators who accompany the entire retreat, and the individual process of each participant.
It is a very precious and important moment in my life, to be able to expand my work through the mentors who have accompanied me for several years and who have opened up to their potential through the encounter with my Being; They are people that I love and love me, who are very close to me and with whom I have created a bond of trust. Being able to be contemporary and witness to their flourishing is a divine experience that nourishes these encounters with an energy of connection and understanding
Alverto.
Clarification
1. You can only participate in the complete event of 4 days and 3 nights.
2. In order for all that is shared through language and the entheogenic word to penetrate deeply, support understanding and promote transformation, a complete mastery of the language is required.
If this is not available, a translation service is required.
You can also attend the event online from your home
If you cannot attend the event in person, access Alverto's online broadcasts from the comfort of your home.
By acquiring the Live Broadcasts Monthly Plan you have access to the full meeting and you can also enjoy a month of live broadcasts with Alverto.
Daily plan
ALVERTODO
Unlimited access to all Alverto videos and live streams
DAILY ACCESS TO ALVERTO'S LIVE TRANSMISSIONS

DAILY ACCESS TO ONLINE MEETING
Monthly Plan
ALVERTODO
Unlimited access to all Alverto videos and transmission
UNLIMITED ACCESS TO LIVE STREAMS

UNLIMITED ACCESS TO ALVERTO'S VIDEO LIBRARY

INCLUDES: L.I.A, RETREATS, ACADEMY